April Showers Bring May Books
Ahoy!
May is here and I've been trying to spend the evenings reading. Got stuck in a great WWII history by Antony Beevor but I've tried a little of everything this month.
A plug for a buddy: My friends are doing virtual event management complete with video and VR integrations. They can do this soup to nuts. If you've been running physical events they can convert them to digital very easily. Reply to this email for an intro.
If you need anything - even if you just want to talk - email me or text me at +16462515666.
And, with that, I present the great reads.
Best,
John Biggs
---
The List
The Second World War [Kindle] [Powell's]
By Antony Beevor
I've been fascinated by the rise of the Nazi party and the parallels to modern thought. While I'm not equating what we're living through to, well, life under Hitler, it's good to understand the arc of history in troubling times. This is one of the most complete and elegantly-written histories I've read in a while.
All the Songs: The Story Behind Every Beatles Release [Kindle]
By Philippe Margotin
I'm not certain why I read this book but for I think I needed something light and breezy to clear my head. Basically this is a song-by-song rundown of every single Beatles release, from the beginning to the end. Each song and album features unique little tidbits about how the Fab Four recorded and build the songs in the studio and I've been registering to the albums to find the little tricks and mistakes that ended up on the final cuts.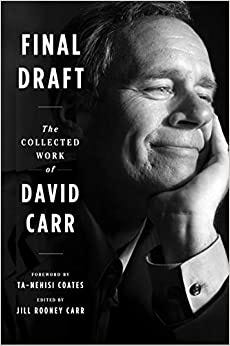 Final Draft: The Collected Work of David Carr [Kindle] [Powell's]
By David Carr
David Carr is a personal hero. He fought back a lot of demons and covered media and technology with an eye for the truth. He was also a fearsome defender of journalism just as the news industry was breaking down. I love this exchange he had with the now-disgraced VICE founders. It's epic:
"Before you ever went there, we've had reporters there reporting on genocide after genocide. Just because you put on a fuckin' safari helmet and looked at some poop doesn't give you the right to insult what we do."
Wow.
This book is a collection of his essays and it's one of those books that deserves a place of honor on your shelf if you love words and the people who make them.
Great Podcasts to Explore
This week we're highlighting the most popular podcasts this week using our AI system. This week these were the three top podcasts on the site picked for you.

Banter: An AEI Podcast - Banter is AEI's weekly podcast series, where hosts Matt Winesett and Max Frost interview leading thinkers and political commentators on a wide range of policy topics.

54 degrees North: Climate Chronicles of the Bulkley Valley - 54 degrees North documents the science and stories of climate change from local residents in the Smithers region of British Columbia. We're already facing climate impacts and are warming faster than other regions. We will need to both act and adapt.


Stuff You Should Know - If you've ever wanted to know about champagne, satanism, the Stonewall Uprising, chaos theory, LSD, El Nino, true crime and Rosa Parks, then look no further. Josh and Chuck have you covered.

Want custom recommendations based on what you like?
Please fave podcasts on PodHound. Our AI will begin learning what you prefer and send you custom messages about new podcasts your love.
---
As always, I welcome recommendations. Just email me at john@biggs.cc
Best, JB
My podcast.
My books are available now from Amazon.
My speaking page.